MY NOTTING HILL
A taste of local life from our friend and neighbour, Juliet Kinsman.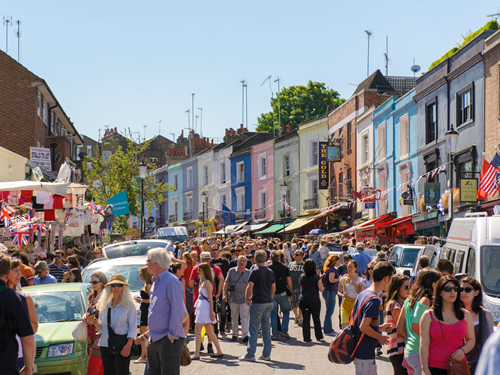 My day absolutely has to start with a great coffee, so that would be Cable Co on Blenheim Crescent, just off Portobello Road next to the Travel Bookshop (still famous from the film Notting Hill) — this indie has just opened up an outpost in the 'hood: I know this coffee shop from when I lived in Kensal Rise. The best barista-made flat white: and I choose oat milk since it has a lower carbon footprint.
And if I feel like a treat, a straight-from-the-oven delight from Buns from Home on Talbot Road: I recommend the cinnamon or cardamom bun, although I've worked my way through all of them. It's worth queueing under their pink awning and peering into the legendary record shop, Rough Trade while you wait here in Notting Hill Carnival country in a neighbourhood such a rich heritage in music.
Lunch is often Falafel King on Golborne Road if I'm happy to find a sunny spot to perch for a street-food style bite of these crispiest morsels in pitta with all the trimmings. The owner is notorious/beloved in equal measures, for his cantankerous charm.
Conscience Kitchen on All Saints Road is an ethical restaurant where you can order the most delicious meal boxes for delivery — whether you feel like salmon, beef or you're vegan, it's the best quality ingredients care of responsible planet-loving husband-and-wife hosts.
For an important window into this area's black history, watch Mangrove in Steve McQueen's "Small Axe" anthology series for BBC which spans the 1960s through to the 80s; this particular episode tells the tale of the restaurant of this name on this road, and conveys the activism (and injustice) and the landmark court cases that centered around this Notting Hill address. You can even see the Westway motorway being built in the background. The five shows tell individual stories which portray the lives of West Indian immigrants who moved to London in this time — and the struggles, the reggae music and the path towards reformation.
As you know my favourite place to work would be the library in The Laslett. A lovely well-lit space, which feels gentle and calm and an interesting cast of characters. I'm still in touch with an interior designer in New Zealand who was staying once, and we got chatting. Right by Notting Hill Gate Tube also, so super convenient if I need to have a meeting there.
The Windsor Castle pub on Campden Hill Rd for Sunday roasts and The Cock & Bottle Artesian Road for pints on the pub quiz night! 
People-spotting from a bench in the Italian Gardens in Hyde Park is like taking a micro-holiday in itself. What a cast of characters parading by this ornamental water garden with its Carrera-marble statues and fountain here near Lancaster Gate — I've seen flamboyant marriage proposals, roller-skating ravers, full aerobics workout sessions, picnicking aristocrats with a menagerie of pets among the many scenes.
Strolling past the storied mansions of Kensington Palace Gardens is always fun— reputedly the priciest property in the world and Britain's most expensive street — I've read so many books that reference these addresses. Most recently, The Spy and the Traitor by Ben Macintyre which is a fascinating account of them many revelations around espionage, including the KGB's activity at the Russian Embassy at 13 Kensington Palace Gardens right around the corner from The Laslett. Plutocrats and oligarchs galore from Asia to Arabia have homes here — it's fun just to ogle how the other 0.0001% live.
About Juliet
Three decades as a journalist and a broadcaster, visiting the world's most special places, has given Juliet Kinsman an unrivalled understanding of which of the world's best hotels are most eco-friendly. Condé Nast Traveller's first-ever Sustainability Editor, and founder of sustainability consultancy BOUTECO there's nothing more inspiring than researching and sharing stories of positive impact. Founding editor of Mr & Mrs Smith and an author of Louis Vuitton City Guides, for Juliet the real meaning of luxury is spending time in beautiful environments, which work hard to do environmental and social good. Her 2020 book 'The Green Edit: Travel, Easy Tips for the Eco-Friendly Traveller' (Ebury) is the ideal guide to making travels a stronger force for good.